Advance Energy Batteries
Sun Microstamping initially started business development in the Advance Energy Sector during 2009 when President Obama kicked off the initiative to accelerate the Electric Vehicle Adoption. Sun's ownership recognized that its core competencies and technical capabilities lent themselves well to position Sun as a provider of power management solutions for the Electric Vehicle industry.
When Sun got involved in the Advanced Energy Market they played a large role in Design and Prototyping of battery packs for our preliminary Automotive customer and since then have continued to grow in this market segment over the last 11 years. Sun's technical advances and experience in this industry keep our customers coming back. We currently manufacture Advanced Energy components for Automotive, Aerospace, Residential, mass transportation, heavy trucking and locomotive industries.
Sun is an all in one solution for this Industry. Sun's provides design and engineering solutions, custom stamping and molding under one roof. We offer dual manufacturing locations USA or Mexico.
Sun manufactures Advance Energy Components through a wide array of Processes including;
Product Applications:
Interconnect Boards for Lith-Ion Batteries
Cell Dividers for Battery Modules
Spacer Plates for Fuel Cell Propulsion System
Stampings for cylindrical battery cell module connection
Flexible PCB Voltage Sense Assemblies
Connectors
Bus Bars

Solid Copper and Aluminum
Copper/ Aluminum Clad Options
Our Market Segments have grown over the last 11 years in this Industry: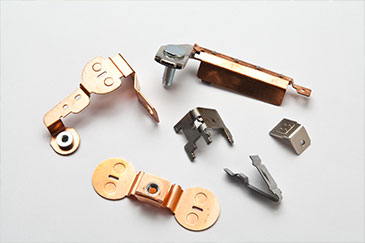 Automotive
Power distribution
Residential
Mass transportation
Heavy Truck
Locomotive
Aerospace
Current Customers;