Metal Stamping
Sun Microstamping Technologies extensive capabilities in Precision Metal Stamping often allow us to provide innovative solutions for our customer's Stamping requirements. We routinely provide consistent product for the most demanding applications. Our customers depend on us to provide Micro stampings with ultra-tight tolerances, complex part geometries, specialty materials and in-die assembly operations.
With over 30 years of experience in the Metal Stamping Industry we have offered a wide range of Metal Stamping products and capabilities for a variety of industries.
SUN works with the customer throughout the entire process including:
Design

Tool and Die Manufacturing

Material Optimization

Advanced Quality Planning

Production Assembly

Shipping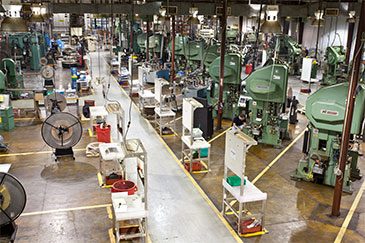 SUN has over 40 high-speed stamping presses and uses Precision, Bruderer and Minster Presses ranging from 20 to 220 tons.
The latest technologies in presses and auxiliary equipment such as;
Batch and In-Line Aqueous Cleaning
De-burring
Inspection
Providing the maximum efficiency and value to our customers.
We offer our customers a "One Stop Shop" when they combine our metal stamping expertise with our in-house Molding for Insert Molding or Assembly. Please click link for more information.
We work closely with our customers to ensure the most cost effective material is selected for their product needs. SUN specializes in Precision parts fabrication in material thickness of .001 through .153 inches, in these materials and finishes:
Metal Stamping Raw Materials Used
Pre-Hardened Beryllium Copper Alloys
Copper, Brass, and Bronze Alloys
Stainless and Carbon Steels, Magnetic Iron
Solid Precious Metal Alloys; Silver, Gold, Platinum and Palladium or any Alloy Combination
Custom Clad Metals
Pre-plated and Pre-tinned Materials
Reel-to-Reel Duplex Plating Requirements, selective and depth
Barrel Plating Requirements
Spot Gold Plating
Selective Silver Plating
Click For Cost Effective Material Selection
Our In-house Tool Room allows for more control over the production process and allows for tooling issues to be resolved quickly with our In-house tooling maintenance team.
Our customers enjoy their custom made products produced with the most appropriate cost effective metals, with any type of plating or inlays. With a quality goal of zero defects, our customers receive the most sophisticated measuring technologies available to ensure complete satisfaction of all our Metal Stamping products.